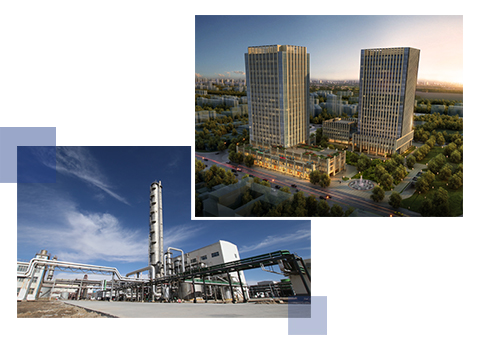 Wentong Potassium Salt Group Co., Ltd. a well-known enterpris in China's inorganic chemical industry potash industry, is Vice President Unit of China Inorganic Salt Industry Association (CISIA) and Executive President Unit of CISIA Potash fertilizer industry branch. The leading products such as Wentong brand potassium carbonate, potassium nitrate and calcium ammonium nitrate enjoy good reputation in the industry and are sold at home and abroad. In 2001, Wentong Group strategically moved to Shanghai, making full use of the advantages of metropolis's information, talents, finance and market, which took a great leap of market share year after year. In 2003, Wentong Group and Qinghai Salt Lake Industry Group Co., Ltd. jointly established Shanxi Wentong Yanqiao Compound Fertilizer Co., Ltd.. Qinghai Wentong Yanqiao Fertilizer Co., Ltd. and Qinghai Salt Lake Yuantong Potash Fertilizer Co., Ltd. with 400,000MT potassium nitrate production line combined to established Qinghai Salt Lake Nitrate Industry Stock Co., Ltd. in 2016. In June, 2014, Wentong Group ,together with Mongolia Tianyu Huijing Group and Qinghai Wentong Yanqiao Fertilizer Co., Ltd. jointly established Inner Mongolia Tonghui Potash Fertilizer Co., Ltd., which mainly engaged in the R&D, production and marketing of fine potash fertilizer and new fertilizer products.

In July, 2008, Shanghai Mintai Investment Group Co., Ltd. entered the real estate industry. With the " Wentong Building ", " Wentong Yayuan ", " Wentong International Plaza " and " Wentong Jiayuan" projects be implemented, Wentong Group formed a real estate management modes, which integrating development, construction and property management. In June 2011, Shanghai International Mining Exchange was jointly founded by Wentong Group, Shanghai United Assets and Equity Exchange and Shanghai Municipal Yangpu District People's Government. In July 2015, Shanghai Wenwen Qianyou Hotel Management Co., Ltd. was established, Wentong Group officially entering the high-end catering industry.

At present, Wentong Group has grown into an international conglomerate, forming a new operating mode integrating five industries of chemical manufacturing, real estate development, property management, financial investment and catering chain.