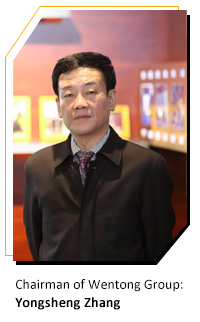 Innovation is foundation of enterprise's great-leap-forward development. Wentong development history in past over 60 years is the miniature of development of enterprise in new China. In over 60 years, Wentong has changed dramatically: changed from original private workshop to cooperative economic under collective ownership; change from cooperative organization under planned economy to business model under enterprise property; changed from collective ownership to private enterprise; change from sole chemical industry to diversified industry. Wentong is maturing and stronger…

Wentong cannot make great achievements without hard-work spirit, innovative courage and development vision of Wentong people. Wentong people create advanced manufacturing experience and advanced working technology, and advance towards new industry and new field, which accelerated transformation and promotion of Wentong. Wentong people innovates management pattern to construct modern enterprise system meeting practical condition and demands of time.

Our company has transformed successfully from a single development mode taking sylvite as main business to pluralistic development taking competitive industries as basis. Wentong will build scientific outlook of development and cultivate core competitiveness with Wentong characteristics insisting on principle of "people first". Look back into the past, Wentong's history is impressive; now and never, Wentong is full of vitality; look forward to the future, Wentong will have a more brilliant tomorrow.